Newer posts are loading.

You are at the newest post.
Click here
to check if anything new just came in.
December
16
2010
Editor's Note
: We're wrapping up 2010 by asking some of the smartest people in journalism
what the new year will bring
.
Below are predictions from Susan Orlean, Joe Grimm, Matt Haughey, Adrian Holovaty, Megan McCarthy, Mark Potts, Jake Shapiro, and Cody Brown.
We also want to hear your predictions: take our Lab reader poll and tell us what you think we'll be talking about in 2011. We'll share those results in a couple days.
We'll be reading more on our phones, our iPads, and our Super Scout Decoder rings by the end of next year.
Several magazines — maybe Time or Newsweek or both — will go monthly and/or digital only. But there will be new magazine startups in print that will be luxurious and expensive and book-like. 2011 will be the year of those two forms making themselves distinct; things on line will become more webby, and print publications will become more "collectible" and classic.
Journalism schools will offer a "web producer" major.
The last typewriter living in the wild will be captured, its DNA sequenced; and then it will be humanely destroyed.
In 2011, I expect to see some shakeout of traditional and innovative newsrooms. Some of the new ones will have hit the wall that tells them they don't have the right model to go forward. Legacy newsrooms seem to gaining traction with digital advertising and are feeling some traditional advertisers come back, but they have been substantially weakened and devalued. With the amount of cash that is sitting idle, I expect we will see some acquisitions among traditional media companies. The prize in those deals will be the content parts of the operations, of course. I would not surprised if some traditional newsrooms are absorbed by digital companies looking to build credibly news-oriented footprints fast.
Watch Yahoo! and Facebook in 2011 to see how they try to grow their reputations as news sources.
Mobile and tablets will continue to boom, with some shakeout among devices and a real gold rush to build apps, backed up by original news and news aggregation. Individualized services or services curated by friends will grow.
Whether or not the Gawker suite of sites redesign is successful or not, the rest of the New York media blog world will follow suit and copy the new direction for layout, because big business blogging is basically a cargo cult where everyone does what Gawker is doing since that seems to be successful for them (in the hopes it is successful for them).
This is sort of a half-prediction and half-hope, but I'd love to see the self-publishing pendulum start to shift the other way, from centralized services (like Twitter and AOL before it) back to a beautiful diversity of decentralized/independent tools and services like we had in the "golden age" of blogging. We've seen some occasional banter about this over the last few years, but I think people are going to get more serious about it in 2011, and certainly by the end of 2012.
Oh, and Google is totally the new Microsoft. I can see that being a theme of 2011.
The convergence of the media and technology industries will continue. Consumer-facing technology companies will start to encroach onto traditional media territories, and media companies will realize that they need to invest more into technology in order to compete with the tech companies entering their space. There will be more tech/media partnerships like the one between Betaworks and the New York Times, but there will be a struggle to see which side — tech or media — comes out on top. The real winners will be developers, executives, and small sites that straddle both worlds.
Mobile access to the web will become more reliable, especially if the iPhone heads to another carrier (like Verizon) as has been predicted. A spike in smartphones will bring an obvious spike in mobile views. Apps will still be important, but, as mobile OSes multiply, the smarter move might be towards mobile-friendly websites that work across platforms (like http://mediagazer.com/m)
Traditional web advertising will still be a mess, yet there will be substantial resistance to changing the model. There will be too much emphasis put on metrics that no one actually knows how to measure. Pageviews will become more and more meaningless, but people will still chase them, like rainbows, hoping to find that pot of gold.
Oh, and there will be more robot/cyborg/machine involvement in media, and it will be a good thing. Algorithms are not the enemy!
A continuing explosion of blogs covering local communities and local interests, written by passionate community members whose coverage and audience engagement far outstrips what can be managed by corporately backed local interlopers like Patch. Key to these efforts, though, will be the bloggers and local site operators getting serious about tapping their share of the $130 billion local-advertising market. At the same time, the rise in location-aware mobile services will begin ushering in a new generation of targeted local coverage and information in the palm of readers' hands. Mobile is local, and I suspect we'll see the first breakthrough, wildly popular local mobile product in the next year or so.
Apple will change its tune on one-click donations to nonprofits and public media.
Public broadcasting will emerge from its existential crisis (Juan Williams fiasco and defunding threats) as a more focused, collaborative, and inclusive "public media" industry, reasserting a central role in sustaining journalism and leading innovation.
The Public Media Platform will launchand catalyze more collaboration and innovation, expanding beyond the borders of public radio and TV.
News orgs will start leveraging Mechanical Turk and other crowd-powered services to help manage overwhelming data needs.
"Private" social media websites like Path are going to boom. Sites that see privacy as a value as opposed to an antiquated social norm are going to go big. I don't think Path is actually that great, but they are in the right space.
WikiLeaks will leak a government document that outlines strategies to assassinate Julian Assange.
Gawker will buy then break a story that starts a war.
September
21
2010
In the last few weeks there has been some interesting and exciting news in the journalism startup world. I wanted to take some time to highlight new players and provide my own personal analysis.
Collaborative Storytelling: Three New Startups

Kommons was founded by the young Cody Brown who busted into the conversation with some epic blog posts last fall. Brown and his co-founder taught themselves how to code (this is a bootstrapped operation) and iterated like mad. For that, my hat is off. Disclaimer: I've had the chance to chat with Brown a few times and find him to be a brilliant media thinker in part because he has no baggage from past experiences.
Similar to 10questions.com, Kommons is playing in a very interesting intellectual space. The ability to reach people in high positions of power has dropped to a Tweet. The ability to get a response from them has not. More accurately I'm referring to the cost to get their attention. This can be done, however, if enough people chime in as well. Since the collective cost of asking powerful people the same question is a matter of getting the attention of the masses, in theory, the most important questions will rise to the top and the public conversation will become richer.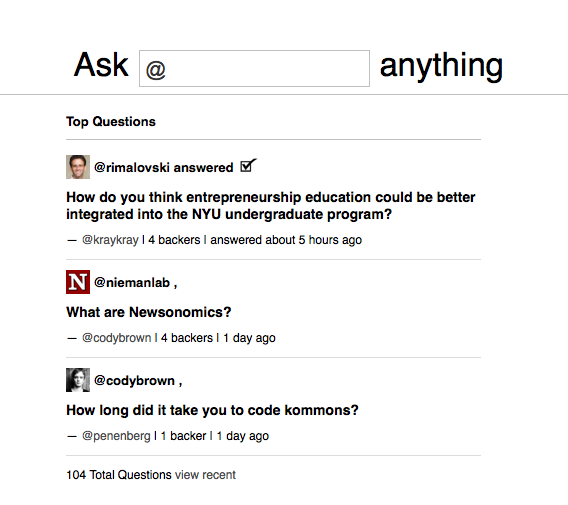 Kommons reminds me a bit of Yoosk.com, a site I came across when I was editor at NewAssignment.net. I do believe, however, that it has some core strengths that will make it shine. First, it's a growing community. To be a part of Kommons you have to be asked a question. Thus, the goal right now isn't to pressure Sarah Palin to answer a question (at least, not yet); instead Kommons will grow organically and look to include her eventually. This is how Twitter  grew, and Twitter is Kommons' second strength because it means they are working off of a known vocabulary and platform. The @'s need no explanation.
Another key point about this startup is that, unlike some of the others, the emphasis is not, in my interpretation, "journalism." I think this is a strength. Brown is avoiding "journalism" baggage while still providing a community with tools that can serve its news and information needs. As I've said before, we may not call it "journalism" in the future, but if it still meets the news and information needs of a community, more power to it.
My biggest complaint -- nobody has asked me a question on Kommons yet :(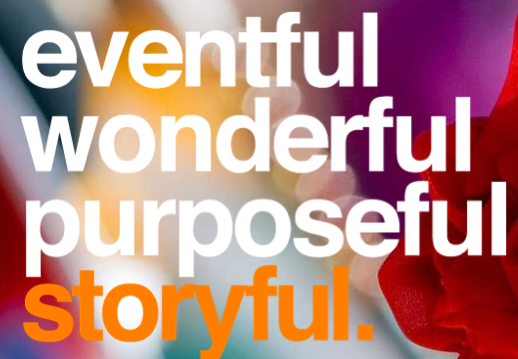 It's hard to offer analysis about Storyful. They have a private alpha I haven't seen and their about page gives only the vaguest of descriptions, which make it sound like it could re-invent the wheel of GroundReport, NowPublic, GlobalPost or others.
My hope is that they break new ground with a compelling feature and test a new method of collaborative storytelling. I bring up Storyful not so much to provide analysis on their product (which I haven't seen) but to comment on the continued state of journalism startups occasionally reinventing the wheel. We do not have a Crunchbase of journalism. The "fog of war," as my colleague Lisa Skube calls it, has us scrambling around with the potential of friendly fire. Again, I know nothing of Storyful beyond their About page, and while I encourage participatory storytelling in any form including pro-am, which is how I interpret them, we need to make sure that new ground is forged.
Let's start with a big disclaimer. I used to work for Jay Rosen and I still lovingly call him "Boss Rosen." The second disclaimer is that when I look at The Local: East Village I can't help but see that blossoming from an experience we were a part of called Assignment Zero which had postmortems from several angles (including my own).
I think the fruit of Assignment Zero's perceived failure was a better understanding of what is needed to create what Rosen calls the "Virtual Assignment Desk." It must be clearly articulated, focus on the story, allow for participation that lets people come and go quickly and freely. Most importantly the burden is on communication and how to streamline it. I love that at the end of the video below it states that the assignment desk "is better than sending and receiving 25 emails for one assignment" because that's what I did during Assignment Zero. Somehow I ended up at the center of communications and I would relay messages back and forth for all 90+ assignments. That the Assignment Desk is built in WordPress is a HUGE boon. I think one
might also see the intellectual roots of Spot.Us by examining the Assignment Desk. The two are somewhat similar, though mine has an added focus on participation through funding.
Assignment Desk overview from Matt Diaz on Vimeo.
New Business Models for Journalism: Three New Startups

The quick explanation is that Emhpas.is (pronounced "emphasis") is Spot.Us aimed at photographers.
Crowdfunding has already proven successful in other areas, and we believe photojournalism has a large and enthusiastic following that would be willing to contribute financially when given the right incentive. Emphas.is offers this incentive in the form of exclusive access to top photojournalists carefully selected by a board of reviewers composed of industry professionals.
Of course, I view this statement as a HUGE WIN for Spot.Us. Just two years ago I had to yell and scream about crowdfunding at the top of my lungs and still got strange looks. Now it's an accepted norm. The more people that join the space, the better it is for all of us. Even if it means "competition," I welcome folks like Emphas.is with open arms and hope they feel the same towards Spot.Us.
Spot.Us (pronounced "Spot Us") is not centered around a specific medium. We've worked with photographers, videographers, radio and print. Hell, we've worked on strict database journalism projects like LittleSis.org.

That said, photographers do view themselves as a horse of a different color. Some outright hate Spot.Us because historically we've asked them to license their photographs under Creative Commons (we have made exceptions and are still willing to hear folks out). One thing I can tell you right now, however, is that we would never put our content behind a pay wall, which is what Emphas.is sounds like it intends to do.
From my understanding, only people who contribute will gain access to the content from photographers. I assume content will be teased out elsewhere. If not, I highly question the enthusiasm of people to support photographers whose content they haven't seen. The assumption that folks will pony up funds for photographs they haven't seen might be based on a romantic vision of photography hat seems to be expressed throughout the site. I love photojournalism as much as the next person, but that's NOT what the site should emphasize. If it's not in the public interest or perceived as something that can't be gotten elsewhere, it will be an uphill climb. I think the folks at Emphas.is know this, so I imagine they have some idea of how to deal with the pay wall/audience attraction problem.
I will also be curious to see how they work with news publications. On the one hand there is talk of a pay wall, on the other hand there are endorsements from folks at Time magazine saying they "welcome the opportunity to work" with their producers. Well, that would require publishing their work at which point folks paying to get beyond the pay wall might feel like all they are doing is subsidizing Time magazine's photography. If Emphas.is doesn't work with major publications they'll have a harder time finding the top notch photographers they are looking for. This is what makes Spot.Us interesting in my perspective -- we are a three-sided marketplace. I can't tell if Emphas.is is trying to have a triangle marketplace with a pay wall or not.
But the next startup in this space is decidedly NOT a three way market.
Freelancing is an antiquated system. It is a process that happens behind closed doors and is one-to-one communication. What I like about Ebyline is that it's trying to modernize the process of freelancing.
Certainly there are inefficiencies in the freelance process today. Beyond only being able to pitch so many editors at a time, the dirty secret of journalism is that it's an insider's game -- you need to know somebody to get any attention.
Ebyline takes a swipe at this by allowing eager publishers to find new talent, but it fundamentally doesn't challenge the truth that decisions about content should include the public. Ebyline is a B2B play. It will remain opaque to the public. One person with a budget makes the call. It is not participatory.
You can't necessarily knock Ebyline for this. Like I said earlier, they are purposefully not a three-sided market. They are decidedly two-sided, and I believe there is much ground that can be gained in figuring out how to make that marketplace more efficient. More power to them.
My personal bias towards making journalism more participatory and transparent, however, is why Spot.Us pivots around public participation. That could be its strength, it could also turn out to be a weakness -- which is why I'm glad Ebyline is trying the B2B version.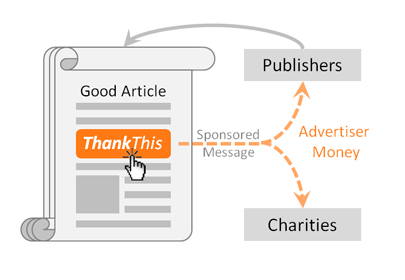 I came across ThankThis.com and have had a back and forth with the founder. There is even the possibility I will join as an advisor (no papers signed yet, so no "official" disclosure as of writing this).
What I love about ThankThis is the idea that advertising can be transparent and participatory. I first wrote about this idea in April and we launched our first attempt at "community-focused sponsorships" in May. In the coming months we hope to have new sponsors and opportunities where community members consciously engage with an advertisement because they will see a direct benefit.
The idea behind ThankThis.com is similar to community-focused sponsorship: to bring some transparency and participation to advertising. At its best, advertising is not adversarial. Coupons are a perfect example of advertisement that we welcome with open arms. Look at Groupon, one of the fastest growing companies on the planet, and tell me that advertising isn't ripe for reinvention.

With ThankThis.com you can click a button, engage with an advertiser and then give your credits to the cause of your choice. Meanwhile the publisher also gets a cut.
I'm biased -- this is similar to Spot.Us' sponsorship model -- so I think this is brilliant. The challenge, from my perspective, is that the founder is a bit of an outsider to the publishing industry. Similar to Kachingle, which CJR profiled recently, it's a chicken and egg game. Spot.Us suffers from this as well, but we actually decided to pick the egg. Our focus has been on independent reporters and news organizations. We would be happy to work with larger publishers -- and we recently put up a pitch from Mother Jones, arguably the biggest organizations we've worked with since the New York Times -- but our core is around small folks. If we can prove the model for them, we can scale around it. If not, we wouldn't have worked for bigger publishers anyway.
Another strength of ThankThis, from what I can tell, is that not only don't you have to pay money out of your own pocket, you don't even have to join anything. To participate in a Spot.Us community-focused sponsorship you have to join our site. This is because we do more than just sell advertisements. But registration is a mental barrier.

ThankThis has the potential to get around it, which would increase participation. If they can find a way to make sure that one person doesn't drain an advertisers account (perhaps by using cookies), then what do they care if you register? (This is all assumption, as I have no idea if they will/won't have registration. But as a potential future adviser, I'd question it as a necessity for them.)
ThankThis.com hasn't launched in full, but I will support their mission whether or not I "officially" become an advisor.

News From The Dead
I wrote this post because I saw all these startups come out in the last few weeks. I wish them ALL well. Seriously. Even those which could be seen as competition. But we need a more robust conversation to keep track of journalism startups and the lessons each of them hold. Not too long ago I wrote five lessons learned from NewsTilt's closing. When this happened Paul Biggar emailed and told me he would have a personal blog post out soon. Well here it is. And with it some analysis from Lois Beckett at SF Weekly, GigaOm and probably others.
No matter what you think, it takes guts and a reflective personality to try and grasp and articulate ones own failings. I hope Paul recognizes that this is a service to other entrepreneurs (whether in journalism or not).
Back From The Dead
I also found out that the Printed Blog, which was closed last year, re-opened in the past month. They have a new vision and revenue model. Whereas before their aim was to play the role of newspaper, providing up to date content funded by advertising, the Printed Blog is now looking to be a niche interest weekly magazine that people will subscribe to.
It looks to me like they are taking some ques from LongShot Magazine and others, which also share revenues from sales with the contributors.
December
10
2009
I've helped organize a lot of future of journalism conferences this year, and have done some research for a few policy-oriented "future of journalism" white papers. And let's face it: as Alan Mutter told On the Media this weekend, we're edging close to the point of extreme rehash.
This isn't to say there won't be more such confabs, or that I won't be attending most of them; journalists (blue-collar and shoe-leather types that they are) may not realize that such "talking" is actually the lifeblood of academia, for better or worse. However, as 2009 winds down, I do think that it might be worthwhile to try to summarize a few of the things we've more or less figured out this year, and point towards a few of the newer topics I see looming on the horizon. In other words, maybe there are some new things we should be having conferences about in 2010.
In the first section of this post, I summarize what I think we "kinda-sorta" learned over the past year. In the next, I want to point us towards some of the questions we should be asking in 2010.
To summarize, I think were reaching consensus on (1) the role of professional and amateur journalists in the new media ecosystem, (2) the question of what kind of news people will and won't "pay" for, and (3) the inevitable shrinking and nicheification of news organizations. And I think the questions we should be asking next year include (1) the way changes in journalism are changing our politics, (2) the relationship between journalism, law, and public policy, (3) what kind of news networks we'll see develop in this new ecosystem, (4) the future of j-school, and (5) the role of journalists, developers, data, and "the algorithm."
But first, here's what we know.
What we kinda-sorta know
As Jay Rosen has tweeted a number of times over the past few months, what's remarkable about the recent wave of industry and academic reports on journalism is the degree to which they consolidate the "new conventional wisdom" in ways that would have seemed insane even a few years ago. In other words, we now kinda-sorta know things now that we didn't before, and maybe we're even close to putting some old arguments to bed. Here are some (big) fights that may be tottering toward their expiration date.
1. "Bloggers" versus "journalists" is (really, really) over. Yes yes. We've been saying it for years. But maybe this time it's actually true. One of the funny thing's about recent pieces like this one in Digital Journalist or this one from Fast Company is just how old-fashioned they seem, how concerned they are with fighting yesterday's battles. The two pieces, of course, show that the fighting won't actually ever go away…but maybe we need to start ignoring most of it.
2. Some information won't be free, but probably not enough to save big news organizations. If "bloggers vs. journalists" was the battle of 2006, the battle of 2009 was over that old canard, "information wants to be free." We can expect this fight to go on for a while, too, but even here there seems to be an emerging, rough consensus. In short: Most people won't pay anything for traditional journalism, but a few people will pay something, most likely for content they (1) care about and (2) can't get anywhere else. Whether or not this kind of money will be capable of sustaining journalism as we've known it isn't clear, but it doesn't seem likely. All of the current battles — Microsoft vs. Google, micropayments vs. metered paywalls, and so on — are probably just skirmishes around this basic point.
3. The news will be increasingly be produced by smaller, de-institutionalized organizations. If "bloggers vs. journalists" is over, and if consumers won't ever fully subsidize the costs of old-style news production, and if online journalism advertising won't ever fully equal its pulp and airwaves predecessors, than the journalism will still get produced. It will just get produced differently, most likely by smaller news organizations focusing more on niche products. Indeed, I think this is the third takeaway from 2009. Omnibus is going away. Something different — something smaller– is taking its place.
What we might be fighting about next year
So that's what we've (kinda sorta) learned. If we pretend (just for a moment) that all those fights are settled, what might be some new, useful things to argue about in 2010? I've come up with a list of five, though I'm sure there are others.
1. What kind of politics will be facilitated by this new world? In the old world, the relationship between journalism and politics was fairly clear, and expressed in an endless series of (occasionally meaningful) cliches. But changes on one side of the equation inevitably mean changes on the other. The most optimistic amongst us argue that we might be headed for a new era of citizen participation. Pessimists see the angry town halls unleashed this summer and lament the days when the passions of the multitude could be moderated by large informational institutions. Others, like my colleague Rasmus Kleis Nielsen at Columbia, take a more nuanced view. Whatever the eventual answer, this is a question we should be trying to articulate.
2. What kind of public policies and laws will govern this new world? Law and public policy usually move a few steps "behind" reality, often to the frustration of those on the ground floor of big, social changes. There's a reason why people have been frustrated with the endless congressional debates over the journalism shield law, and with the FTC hearings on journalism — we're frustrated because, as far as we're concerned (and as I noted above), we think we have it all figured out. But our government and legal system don't work that way. Instead, they act as "consolidating institutions," institutions that both ratify a social consensus that's already been achieved and also tilt the playing field in one direction or another — towards incumbent newspapers, for example. So the FTC, the FCC, the Congress, the Supreme Court — all these bodies will eventually be weighing in on what they want this new journalistic world to look like. We should be paying attention to that conversation.
3. What kind of networks will emerge in this new media ecosystem? It's a strong tenet amongst most journalism futurists that "the future of news is networked," that the new media ecosystem will be the kind of collaborative, do-what-you-do-best-and-link-to-the-rest model most recently analyzed by the CUNY "New Business Models" project. But what if the future of news lies in networks of a different kind? What if the news networks we're starting to see emerge are basically the surviving media companies (or big portals) diversifying and branding themselves locally? This is already going on with the Huffington Post local initiative, and we can see national newspapers like The New York Times trying out variations of this local strategy. A series of "local networks," ultimately accountable to larger, centralized, branded organizations may not be what "networked news" theorists have in mind when they talk about networks, but it seems just as likely to happen as more "ecosystem-esque" approach.
4. What's the future of journalism school? This one's fairly self-explanatory. But as the profession it serves mutates, what's in store for the venerable institution of j-school? Dave Winer thinks we might see the emergence of journalism school for all; Cody Brown thinks j-school might someday look like the MIT Center For Collective Intelligence. Either way, though, j-school probably won't look like it does now. Even more profoundly, perhaps, the question of j-school's future is inseparable from questions about the future of the university in general, which, much like the news and music industries, might be on the verge of its own massive shake-up.
5. Human beings, data, and "the algorithm." This one fascinates me, and it seems more important every day. In a world of Demand Media, computational journalism, and AOL's news production strategy, questions about the lines between quantitative, qualitative, and human journalism seem ever more pressing. If we are moving towards some kind of semantic web, what does that mean for the future of news? What role are programmers and developers playing? How will they interact with journalists? Is journalism about data, about narrative, or both? Is journalism moving from a liberal art to an information science? And so on.
These are all big, big questions. They get to the heart of democracy, public policy, law, organizations, economics, education, and even what it means to be a human being. They may not be the same questions we've been debating these past several years, but maybe its time to start pondering something new.
Photo by Kate Gardiner used under a Creative Commons license.
Could not load more posts
Maybe Soup is currently being updated? I'll try again automatically in a few seconds...
You've reached the end.