Newer posts are loading.

You are at the newest post.
Click here
to check if anything new just came in.
August
02
2010
[Each week, our friend Ken Doctor — author of Newsonomics and longtime watcher of the business side of digital news — writes about the economics of the news business for the Lab.]
New news organizations have embraced the membership model (see part 1 of The Newsonomics of membership), but they don't have to reinvent the wheel to do it. They can hone that wheel, for the digital-only and digital-first age. One of the best places to gain insight is in public radio, which has been plying the membership trade for more than 40 years now — learning the dos and don'ts and sharing some best practices internally.
As city sites begin to build on what MinnPost, Texas Tribune, and GlobalPost have started, they can certainly apply some of those lessons. I made an initial, unscientific foray into NPR membership, to feel the ground and see what's shaking. I think at this point, pending much deeper study, we can see both some metrics and some lessons that have useful applications.
The Metrics
As I noted in my first membership post, there are at least three key metrics for new websites to master as they move forward:
What percentage of which part of the readership can news sites expect to contribute?
What's the median gift?
How much of their going-forward budgets — and if and when foundation money dries up — can be made up by readers?
NPR station experience helps inform those metrics.
Percentage of listeners who become members: There is no single number to cite, but most reports come in at somewhere between 6 and 12 percent, though it's clear that counting methodology is not consistent across the nation. KUT, Austin's public radio station, is part of a group of eight like-sized stations which collectively pool their membership data. Those eight sign up 5.8 percent of listeners, Holly Gaete, KUT's director of membership, told me. "Listeners" are those who listen for at least five minutes per week. KUT currently counts 17,338 contributors.
Oregon Public Broadcasting says it gets about 10 percent of its public TV viewers to become members, but has no similar data for the radio; that's one of the nuances of counting, as a number of dual-license stations (public TV and public radio under one umbrella) complicate any apples-to-apples comparisons.
A few people make the point that it's long-time listeners — those who've listened for two years or more — that make up the best universe of potential public radio members. That notion (akin to MinnPost's Joel Kramer's notion that frequent visitors offer greater potential than infrequent ones) makes sense, but is apparently not something widely measured in public radio.
What brings them in?: KUT's Gaete makes the point that membership directors use diverse tools to gain members. Here's her breakdown:
Radio pitches (those twice-yearly pledge drives): 37 percent
Mail: 36 percent
Web: 18 percent
Telesales: 5 percent
Other: 4 percent
Stewart Vanderwilt, KUT's general manager, differentiates between those who make "intellectual" decisions to give — responding to mail, for instance — from those who make an "emotional" decision, often responding to an on-air appeal. The intellectual decision-makers' average gift is higher, and they renew at a higher rate. KUT's overall renewal rate is 58 percent.
The sweet spot of giving: Again, counting standards differ, but it's the $50-$150 range that draws a majority of gifts. The buck-a-week or 10-bucks-a-month pitch seems to have resonance with donors, with some making the point that "that's cheaper than the daily newspaper."
What's the trend line?: Interestingly, the recession's not done a great deal of damage to membership, at least not as much as we've seen circulation fall at dailies. Some stations report membership mildly down, but giving flat or up a tad. Others report membership even up a little, but giving down. Stations' recent membership performance may indicate a couple of things: Long-term relationships may help weather bad economic periods, and listeners understand the increasing role of public radio in filling the news vacuum.
How important is membership giving?: KQED's Scott Walton, executive director of communications, reports that membership tops 200,000 — and accounts for 60 percent of the stations' $55 million budget. Oregon Public Broadcasting — its number of contributors up two percent over the last year — counts 120,000 members, which account for 64 percent of its budget.
The Lessons
Beware the power of the barker. Bill Buzenberg, now director of the Center for Public Integrity, used to serve as vice president of news for National Public Radio. He's in a unique position to observe membership, given that background. As he compares online news startups with public radio, he notes one big distinction that will affect membership sign-ups.
"The difference is that public radio has a 'barker channel,' meaning they have the radio megaphone to get people to come into the tent or become members in the first place during membership drives in which they can withhold the programming," he says. "That barker channel is great for public radio and drives up the membership numbers, even if listeners hate the membership drives. MinnPost, or other non-profit centers, have no barker channel."
If barking helps, just talking to potential donors — and current ones — about the deep journalism crisis, especially the local one, helps too. Donors feel an obvious kinship with the stations — maybe akin to a loyalty newspaper subscribers have traditionally felt. Or perhaps, the notion of voluntary donation itself creates a reinforced relationship, more so than a fee-for-service "subscription." That's a key question as we see membership pushes for online media ramp up just as paywalls are increasingly erected by legacy news companies.
"People have the tangible sense that journalism is troubled," reports Oregon Public Broadcasting CEO Steve Bass, who says he hears that from donors, as newspapers from The Oregonian to smaller dailies cut back on coverage.
Borrowing lessons from public radio isn't easy. Metrics within public radio vary and are not freely available. In addition, we're in the early stages of thinking about what's different and what's similar between public radio and online news sites. Further collaboration here — maybe abetted by such groups as the Knight Foundation — could be a win/win, though potential competition as we see developing in the Twin Cities (MPR, MinnPost) could be an issue.
Finally, as member-based sites ramp up — or, in the case of public radio, morph into digital-first news producers — one curious question will be the the advertising value of these members. Membership and ads need not be two separate universes. In fact, member data — how they read, what they read, what they buy, where they are — can greatly help the targeting of ads. That could make members even more lucrative than readers, and listeners, overall.
June
03
2010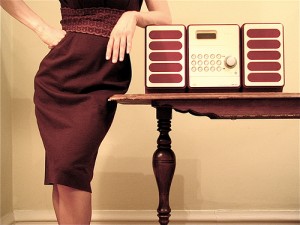 (Photo: georgia.g via Flickr)
Les sites web des radios passent souvent sous le radar de ceux qui se penchent sous les évolutions des médias vers le web. Est-ce justifié ou pas? Pas tellement quand on voit de quelle manière la NPR (National Public Radio, la radio publique américaine) a totalement repensé son offre pour le web, les smartphones et les tablettes de type iPad.
Et en France? Magali Lagrange, étudiante à l'IUT de journalisme de Tours s'est posée la question dans son mémoire de fin d'études et elle m'a interrogé sur le sujet (et je ne suis pas le seul). Elle constate que toutes les radios généralistes (ou presque) sont en train de préparer de nouvelles versions simultanément (celle de France Inter devrait être dévoilée très prochainement). Elle remarque aussi que le web est très loin d'avoir été intégré dans les modes de production de la radio (à l'exception notamment de l'Atelier des médias sur RFI :-) ).
Un travail utile pour faire le point sur l'évolution du secteur.
Pour plus d'infos, Magali Lagrange est joignable sur magali (point) lagrande (at) gmail (point) com
Les radios sur le web: sites d'info ou vitrines d'une marque?
Vous allez sûrement lire également:
March
24
2010
It's hard to imagine, but in other parts of the world, the newspaper industry isn't in quite the same tailspin we see in America. One reason many European outlets have faired better than those in the U.S. during the age of the Internet, and now an economic crisis, is a business model less dependent on advertising. European newspapers charge higher newsstand and subscription rates and readers embrace a long-standing tradition of supporting their media through direct government subsidies.
While I was in Austria last week attending the Milton Wolf Seminar on NGOs and the future of news, I spoke with Michael Freund, a writer and editor at Der Standard, a major Austrian daily, about the state of the country's media and how readers think about government subsidy of the news. Freund explained that while there are some legitimate questions about independence, in general, Austrians believe that news should be protected from completely commercial interests. It's a different mindset.
The question of whether the U.S. government should bailout the newspaper industry has been controversial. The idea, at first, feels like it runs against a basic tenant of independence (even though the U.S. media has long enjoyed indirect, but significant subsidies that buoyed the industry for years). As the media landscape worsens, it's a question that will certainly linger.
A transcript of the video is below.
Michael Freund: Hi, my name is Michael Freund, or Michael, I'm head of the Media Department at Webster University, Vienna and I'm also editor and writer at the Viennese daily paper Der Standard, where I write about culture and the arts and occasional book reviews.

I was asked to say a few words about the Austrian media industry and what it's like — whether its dying or not, so let me try. Let me start by saying that Austria is, as you probably know, a small country in the center of Europe. It's a Western country — it has had a Western-style press, electronic and print press, since World War II with a couple notable differences from what you know, possibly, in America.

For one thing, the television, the radio, the electronic media, the broadcasting has been not state-controlled, but state-sponsored and state-instituted — and still is, but it had been a monopoly, until, I don't know exactly, about ten years ago. Until it became untenable because the other media transpired through the borders: Private TV came through cable, it came thru the air, it came through satellite, so it was not really a feasible position to assume Austria had only one broadcasting company, which it had until about the '80s, until through the other channels that I said, the media came through.

The other interesting thing is that Austria has had, for many decades, a very strong partyline press — meaning there were newspapers that belonged to or were literally owned by or influenced by political parties, official organs of those parties, and they all vanished. As daily papers, they don't exist anymore, as weeklies they don't exist anymore, and instead, you might say a commercially oriented print media scene has taken place — which, of course is not without its own pressures and interests, both commercial and political.

Laura McGann: Do those newspapers — do they have a point of view that were adopted from the politically sponsored publications of the past or would you consider them more independent?

Freund: I wouldn't say they were adopted, or direct successors. But, of course they have a point of view. You cannot not have a point of view. Everybody has a point of view, including all publishers and editors. So, yes, there are some media that are considered more liberal, others are considered more conservative. Some lean toward the Social Democrats, others toward Christian Democrats or the Green Party — yeah, right wing press as well, you have those. So there are pressures, there are leanings, but they are not officially affiliated or tied to parties.

McGann: Has that helped — or could you talk about how print media has faired in the rise of the Internet in Austria?

Freund: It has fared not so well, like in most other countries. I should say for one thing, it was the first one in any of the German-language countries, meaning Austria, Germany, and Switzerland, to go online, and it was in the mid '90s. I think it was '95. And it has had since then, a fairly strong, predominant effect — Internet presence. As far as I know it's making money, but not a whole lot of money, and that's true for many other publications. Newspapers, as far as I know, as much as in the States, have not found a way to really monetize the Internet in a totally profitable manner. So, yes they break even, but they may even make money with the banner ads or their cheap operations, or they associate with others to save costs. But, people are looking for ways to find — trying to find the solution to break even, not to lose on both the print and electronic side. As a matter of fact, in a few weeks, the iPad will be commercially introduced in the U.S., not yet in Austria, and there is hope that with a intelligent model that iTunes provided for the music scene, there may be some way to get people to pay moderately for content they really want, meaning from sources they trust, rather than just some blogs or individual sources where you don't really know where the stuff comes from and its not fact-checked and it's not edited. I think people who are interested in reading something at the level of, say, The New York Times might be willing to pay for it. So far they haven't, but things may change.

McGann: What is the attitude among the media-consuming public in Austria toward government subsidies for the media?

Freund: Well, for one thing, Austrian Radio Television, the one called ORF, the Austrian publicly sponsorsed electronic media, is state-sponsored and people have accepted it as a fact because it's always been like that. It doesn't mean it's unchangeable, but by and large, Austrians, as many other Europeans, see some sense in making sure that certain media don't die or don't fall completely into the hands of extremists who are purely commercially interested people. So, the BBC, for example, has for many decades a state-subsidized, state-sponsored institution — and it is an institution. It's not a coincidence that some of the best American programming makes use of BBC stuff, including National Public Radio, including PBS, their TV shows, their radio news, those things. They come from something which, unfortunately, to a lot of Americans smells like socialism or something horrible and worse, communism, you know, but it's just a way to make sure a certain plurality — not plurality, but quality, of fact-finding, of accurate reporting gets a chance.

McGann: What about fear that coverage of government will be manipulated in some way?

Freund: The fear is there. And it's sometimes not unjustified. The government tries to intervene, people call up, they talk — nothing is documented — everyone knows, but no one can really prove it. There are all kinds of attempts to land your people into this editing room and that desk, that happens. But look, that happens in commercial stations as well — there may be other interests. How many very critical reports of let's say, the tobacco industry have you found in American magazines whose advertising depends heavily on the tobacco industry? Just a question.
Could not load more posts
Maybe Soup is currently being updated? I'll try again automatically in a few seconds...
You've reached the end.