Newer posts are loading.

You are at the newest post.
Click here
to check if anything new just came in.
April
26
2012
Crisis Guide: Iran produced by MediaStorm and the Council on Foreign Relations (CFR) received the 2011 Overseas Press Club (OPC) award for Web: Online General Excellence. The OPC awards have been recognizing online journalism since the 1940s and this year they added six new categories for online coverage to acknowledge the changing media landscape.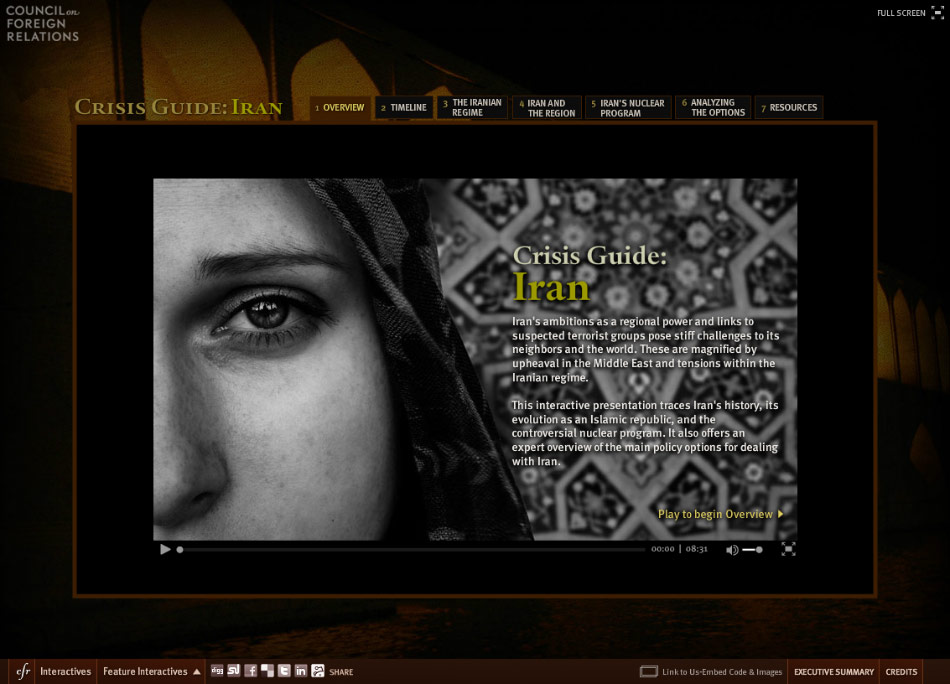 Crisis Guide: Iran was honored for its superb use of multimedia in a timely and in-depth study of Iran's politics, economy and nuclear program. The seven-chapter publication was recognized for using interactive graphics, archival slideshows, graphs, timelines and video interviews to showcase the history and government of the country in a visually pleasing and accessible way.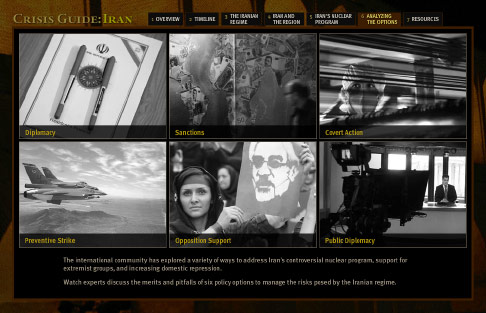 Crisis Guide: Iran is the seventh in a series of guides produced by MediaStorm and CFR that look at major international issues, including Pakistan, the Israeli-Palestinian conflict, the Korean Peninsula, Nuclear Energy, the global economy, global covernance, and climate change. Crisis Guide: Pakistan was awarded the OPC Award for Best Use of Multimedia in 2010.
With this project, MediaStorm and CFR aimed to create a site that was immersive in experience, allowing the user to focus on the complex history of Iran and the issues facing the country as a whole. The guide draws on insights from more than 25 leading analysts, government officials, and journalists to explore Iran's challenges and offer a range of expert opinions on the policy options to address them. It also uses multimedia elements to trace the country's history, examine its oil-driven economy, and survey its controversial nuclear program.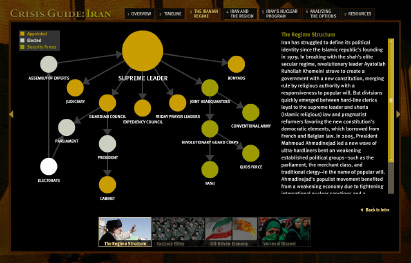 The awards were presented last night at the 73rd Annual OPC Awards Dinner in New York. The club presented 27 awards in categories ranging from photography to online commentary. In addition to MediaStorm and CFR, the winners for online and web coverage are foreignpolicy.com, GlobalPost.com, The Financial Times and ProPublica, Virginia Quarterly Review and The New York Times. Congratulations to all the winners.
November
05
2010
On Wednesday night, over 200 movers and shakers from the fields of finance, law, and policy crowded into a meeting room at the Council on Foreign Relations in New York to hear a talk by Google CEO Eric Schmidt and the new "director of Google Ideas" (and Council fellow), Jared Cohen. The event was part of the Council's ongoing CEO Speakers series, which has brought a steady stream of corporate moguls through the doors of the organization's elegant Park Avenue headquarters.
This, however, was a mogul evening with a difference. Schmidt and Cohen based their talk on their co-authored article, The Digital Disruption, in the current issue of Foreign Affairs, the Council's flagship publication.
In both the article and the talk, Schmidt and Cohen made a strong and irrefutable argument that digital media is altering world affairs.
"I'm extraordinarily excited about the scale of the mobile revolution," Schmidt said. "... There are four to five billion mobile phones of one kind or another and we are approaching a billion smart phones."
Schmidt added that the effect of Moore's Law's_law will be to transform smart phones into the world's dominant communications platform in the near future.
The implications of the mobile revolution, he said, "are just beginning to be understood. But remember that these devices are more powerful than supercomputers were a few years ago, and we are putting them in the hands of people who've never had anything like it before."
But Schmidt's conclusion about the cultural impact of this revolution was more tentative.
"We'll run a test and discover if everyone else is as obsessed with Britney Spears as Americans are ... and the answer is probably yes," he said.
Digital Media Cut Both Ways
Schmidt acknowledged that digital media have had negative as well as positive effects in the U.S. Some American journalists cite Google News' role as an aggregator of free news content as a factor in the collapse of their profession's business model. Schmidt agreed that the new media environment has its downside. "More speech doesn't necessarily mean better speech," he admitted. The new order "is not necessarily producing a better democracy -- just a louder one."
At several points, Schmidt referred to the engineering mindset that has defined Google culture. These engineers have suddenly (and often unintentionally) found themselves at the center stage of world diplomacy. Google has been under considerable pressure to reconcile its business practices in politically restrictive markets such as China with the complexities of freedom of expression concerns.
In 2005, in the video embedded below, Google co-founder Sergey Brin told a class of Berkeley students, "Technology is an inherent democratizer."
But Schmidt's remarks at the Council suggested that things aren't quite that simple. "Technology is neutral," he said.
There is great potential for digital media to advance the cause of government transparency and human rights; but at the same time, he noted considerable potential for harm. Online media empower the individual in unprecedented ways, he said.
"The nature of the technology is to unite the citizens, but it can unite them in favor of a repressive government," he said. His worst fear, he added, was digital media's possible "empowerment of the rogue evil person."
Contrasting Impact of Digital Media
It appears that Google's leadership realize that they need greater breadth in addressing foreign policy concerns. Clearly, the hiring of Jared Cohen
is a cornerstone of their strategy. Cohen was brought into the Bush Administration's State Department as a 24 year-old wunderkind to work on international media policy issues, and he made an easy transition to Hillary Clinton's team. Cohen represents the timely addition of a "wonk" to Google's "geek" culture, a bridge between the Washington policy and West Coast tech communities. He is unusual in both circles due to his extensive grassroots experience.
At the Council, he gave a first-hand description of digital media's benefits during Iran's "Twitter revolution," but contrasted it with meeting a "Guatemalan family extorted by cellphone from an MS 13 gang member in prison in Los Angeles." (Cohen's 2008 appearance on the Colbert Report provides a good introduction to his approach.)
Cohen's August appointment to the directorship of Google Ideas signaled Google's intent to craft a more nuanced form of corporate foreign policy that could evolve in closer consultation with foreign policy circles in Washington and New York. At the same time, his fellowship at the Council on Foreign Relations indicates that CFR may be ready to take the digital revolution more seriously. (It was telling that the Council told members such as myself that they were allowed to liveblog the meeting, while at the same time preventing us from using electronic devices into the meeting room itself.)
The Council, like the State Department, has been reenergizing its online presence and can now point to activity on Facebook and Twitter. But while America's foreign policy community and tech community may share values and goals, there's a ways to go before the wonks and the geeks speak the same language. In the meantime, digital media is disrupting the world faster than either can measure.
Anne Nelson is an educator, consultant and author in the field of international media strategy. She created and teaches New Media and Development Communications at Columbia's School of International and Public Affairs (SIPA) and teaches an international teleconference course at Bard College. She is a senior consultant on media, education and philanthropy for Anthony Knerr & Associates. She is on Twitter as @anelsona, was a 2005 Guggenheim Fellow, and is a member of the Council on Foreign Relations.
This is a summary. Visit our site for the full post ».
January
05
2010
MediaStorm and the International Institutions and Global Governance (IIGG) program at the Council on Foreign Relations have collaborated to launch the latest component of the Global Governance Monitor, on Oceans.
Oceans are literally the source of life on earth. They shape the climate, feed the world, and cleanse the air we breathe. But the world's oceans are being threatened by a dizzying array of dangers, from piracy to climate change. The United Nations Convention on the Law of the Sea offers fundamental legal principles for ocean governance, but suffers several serious limitations, and much work remains in coordinating national actions within and across regions. To be good stewards of the oceans, nations around the world need to embrace more effective multilateral governance.
With a cinematic overview, an interactive timeline, maps, and other resources, Oceans provides a detailed look at multilateral efforts to address global challenges in oceans governance.
This, along with the Monitor's two previous components on nuclear nonproliferation and finance, can be viewed here: www.cfr.org/ggmonitor.
Could not load more posts
Maybe Soup is currently being updated? I'll try again automatically in a few seconds...
You've reached the end.