Newer posts are loading.

You are at the newest post.
Click here
to check if anything new just came in.
April
14
2013
If you want to design the future, learn to code.
That's how I concluded the last post in this series. So far, I've discussed HTML and CSS, JavaScript and jQuery, the command line, and software and CMSs. The vast majority of journalists out there are probably not going to stick with the program much past part 1 (HTML and CSS). But for those of you still with me, Git has become a de facto standard in a very short time, so let's go!
What is Git? Git is a version control system (VCS). Version control helps you manage and keep track of changes you make to your online projects. Version control is considered essential for teams working together on a digital project. Git is free and open source — there are no fees.
How do you get Git? You must download and install Git on your own computer. Follow these instructions for any operating system. Skip past the part "Installing from Source" and go down the page to the part for Windows or for Mac. For Mac OS, download the Git installer, which launches a typical DMG file. Note: Some steps below will not work if Git has not been installed.
How do you use Git? This has a long list of possible answers, and you will need to learn a lot more if you are working on a project together with teammates. I'm going to focus on the solo user, such as one journalism student working on his or her own files. Basically, once Git is in place in a project folder on your hard drive (explained below), you will add files from your project, commit files after you have updated or changed them, and push files to an online site or repository (repo) when ready. Even if you are not working with teammates, this can help you prevent mistakes if you work on multiple computers — you can pull the latest version from the repo to quickly incorporate any changed files on the local computer.
You might be thinking, well, my Web sites or projects are very small, only a handful of files, so I don't need this Git stuff. Okay, fair enough. But if you ever need to share a site or a project with other people, GitHub provides an easy way to do it. Others can download your entire project by clicking the Zip button on the GitHub repo page.
I have Git — now what?
If you have installed Git and done nothing else, what's next? Do you have an account on GitHub? No? Then let's do that next. (Yes? Skip down to the following subheading.)
GitHub is a social site for code. It has more than 3 million users and is free to use, unless you want to have private code repos (then you'll need to pay). So if you're not going to pay, don't put anything on GitHub that you don't want the world to see. Coders from all around the world share their code publicly on GitHub. This is one of the coolest things about it. Even if you do not have a GitHub account, you can look at other people's code, like this.
Go to GitHub, type a username, your email address and a password, and you're good to go. Now read this and do what it says. It explains how to set up your very first "repo," which means a repository for your files and code.
If you have a little code project on your own computer already, maybe it has a name like photo-slider or personal site or scrolling_game. That is, you've got files inside a folder with a name like one of those names. If so, it would make sense to name your first repo the same way, and you could try putting a real project into your first repo. (Note that repos use hyphens in the name, not an underscore or a space.) Check out the way repos are named on GitHub's Explore page.
Note: You do not need to create a README right away. You can wait.
I have a GitHub account, and so …
You have already downloaded and installed Git, but you haven't set it up yet. I wanted you to wait a bit because this part requires you to go to the command line. It attaches your name to your work, and your GitHub login details. If you're already comfortable with the command line, of course this will be simple for you. If you're not used to the command line, you can do it in the client program — read on!
Assuming you are not a command-line jockey, you should now download and install GitHub for Mac (OSX 10.7+ only) or GitHub for Windows. Each of those is a client program that lets you manage your projects and all associated files without going to the command line. To get started, you will need your GitHub username and password — which is why you had to set up GitHub before this part!
After you supply your GitHub username and password to the client program, you'll see the name of your first repo (the one you made earlier on GitHub) appear there. (If you don't see the name of your repo, click your username at the left side.) Notice it says "Clone to Computer" on a button to the right of the repo name (shown below). Do not click it. (There are no files in your repo on GitHub, so there's nothing to clone!)
Interlude: Set your username and email address in the client program now.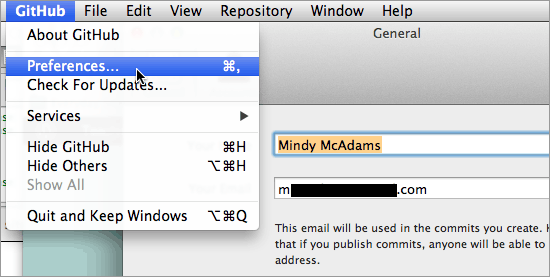 Now, back to the "clone" thing: If you had files on GitHub.com and not on your own computer, then you would press the clone button. This would be perfect if you had an empty folder just waiting on your computer to receive a bunch of files. Cloning would bring the whole repo from GitHub down to your local folder.
However, if you have files for this project on your computer, and no files at GitHub.com, here's how to copy all those files up to GitHub:
File menu > Add Local Repository
Navigate to the folder on your computer that contains all your project files.
Open the folder and click Add.
The client alerts you that this is not a Git repository (yet). Click Yes to make the magic happen. (This is what I meant above when I said "once Git is in place in a project folder on your hard drive." When you click Yes, the client invisibly runs a git init command, which enables Git in that one folder.)
Now your client flips to the Changes tab, and you see all the files that are inside the folder. These files are waiting for your first commit. (This is a big difference between the client and doing Git at the command line, by the way.) You're about to do several steps — to upload all the files to your GitHub repo (where others can see and easily download them as one zipped file) — so make sure these are files you don't mind others having access to.
Ready? Okay. Find the text near the upper left that says "Commit summary." Replace that text with a few words that describe what's been changed since your last commit. Since you never committed to this repo before, type "first commit."
Click the button Commit & Sync. Now your local folder and the (remote) repo are sync'd. But your files are not at GitHub.com yet.
To send the files this first time requires two steps in the client:
Click the Settings tab in the client. This is where you provide the Web address of your repo at GitHub. Get the address from your repo's page at GitHub (see illustration below). Then click Update Remote.
Click the Branches tab in the client. Then click the Publish button on the right side. Refresh your repo's page at GitHub, and you will see all your files there. Click any file to open it. You can even edit files right there, on GitHub. (Warning: If you make a change on GitHub, be sure to do a pull in the client program — it's on the Repository menu.)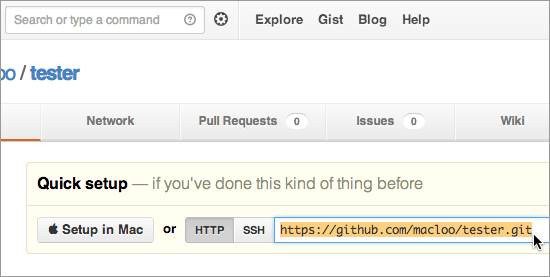 You'll need to explore the help document for your client program — Mac or Windows — to get the hang of keeping everything sync'd up in true Git fashion. You might even find yourself yearning to learn more about the command line in just a little while.
Forking and branches
Two bits of jargon you'll hear often around the world of Git are fork and branch.
If you fork someone's code on GitHub, you get an independent copy of that whole repo, in your GitHub account. You can then modify any part of it without affecting the original. The files will not appear on your computer unless you clone the repo locally (about cloning: see the third paragraph under the subheading above, "I have a GitHub account, and so …"). Note: You can download someone's repo without forking it.
Branches are vital for teams working on different pieces of one project. A branch is a copy of the code that stays in the same project, a parallel duplicate. A branch can later be merged back into the master, or original set, of all files and code. If any changes are incompatible, Git highlights them all for you so that human intelligence can decide what to keep and what to delete. Note: The original, first or only set of files is also a branch, named master. So every repo has at least one branch.
Git vs. FTP
Are you regularly updating and uploading files to a Web server? You might like to use Git to handle that for you. There's a repo for that, in fact! Separately, there's a very straightforward how-to for the command line. Less straightforward — this 26-minute video is almost scary (the guy opens a lot of apps in the process of figuring out, live, how to do this) but kind of fun to watch; he uses Beanstalk, a paid service. See also: Using Git for Deployment (detailed).
You must know your way around your hosting server before you try this part (replacing FTP). And you've got to be comfortable with the command line. If you're not, better stick with FTP, I think.
More Information About Git
This Series