Newer posts are loading.

You are at the newest post.
Click here
to check if anything new just came in.
May
30
2013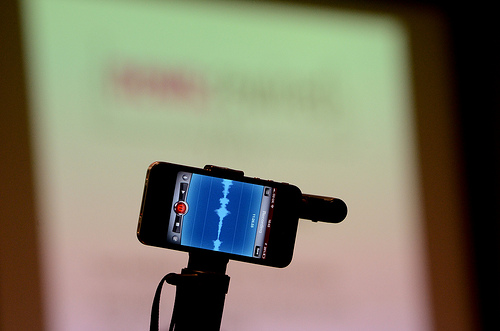 Image by Mark Hakansson
Did you know that you can sign up to attend a one-day intensive workshop the day before news:rewired?
The next news:rewired digital journalism conference is on 20 September. We also offer a 'news:rewired plus' option so that you can attend one of three one-day training workshops the day before the conference, on Thursday 19 September.
If you are coming from overseas and want to make the most of your time in the UK, or if you just want to learn a new skill, signing up for a one-day course will allow you to really get to grips with one of the subjects on offer.
There are three news:rewired plus one-day workshops to choose from. If you are a regular at news:rewired you will recognise some or all of the trainers. They have all been involved with the event in the past, for example both Luke and Glen delivered workshops at our last event in April. We have invited them to lead one-day courses based both on their expertise in the field and the positive feedback from news:rewired delegates.
The three options are below. Click the links for full details.

Creating a buzz: How to grow active social media communities.
 This course is led by 
Luke Lewis
, editor of
 BuzzFeed UK.

Mobile journalism: How to create quality video and audio on an iPhone and iPad.
 This course is led by
 Glen Mulcahy
, innovation lead at Ireland's national broadcaster 
RTE
.

Introduction to open data for journalists: finding stories in data.
 This course is led by 
Kathryn Corrick
 from the 
Open Data Institute
.
The first 50 news:rewired tickets (whether standard or 'plus'), are available at an early bird discount rate. We only have a few left – so hurry!
This means early bird news:rewired plus tickets cost £280 (+VAT), while standard, conference-only news:rewired tickets cost £95 (+VAT). Tickets include lunch, refreshments and after-event drinks on the day of the conference.
The earlybird discount will only apply to the first 50 tickets sold, or until the end of Friday (31 May), whichever comes first. After this point standard tickets will rise to £130 (+VAT) and 'news:rewired plus' tickets will rise to £310 (+VAT).
You can buy standard conference tickets at this link. If you select a news:rewired PLUS ticket Journalism.co.uk will contact you to confirm which training course you would like to attend on the Thursday (19 September) and provide further details.
February
03
2012
Sky News correspondent Nick Martin gave three pieces of advice to those looking to get into mobile reporting at news:rewired – media in motion.
He identified how essential it is that journalists are engaging in mobile reporting and shared some of his experiences reporting from various stories using just an iPhone, including the London Riots.
Nick Martin also highlighted the importance of investigating accessories that can be added to enhance the quality of video and sound. One example he showed was an adapter to be able to plug in an XLR cable to record high quality audio.
Martin's one big piece of advice is to practise. The key to getting better with mobile reporting is to "take the rough with the smooth".
He also advised beginners not to panic. While it can seem daunting at times, Martin showcased examples where there was no choice but for reporters to get involved with recording video from their mobiles, such as when reporting from numerous locations on one story with only one cameraman. Martin told a story of how he was covering the deportation of two buses of illegal immigrants in America with one cameraman. They each went on one bus and it was his bus that gave the more interesting story – "like a scene from Scarface". Martin was left with no choice but to use his iphone footage.
Martin's final piece of advice was to use mobile reporting only when it was appropriate. He said it is not worth setting up a tripod and XLR cables for an iPhone when the cameraman is just five minutes away and time could be much better spent working out the story and what has happened.
May
21
2010
I had the pleasure of attending the Global Voices Citizen Media Summit in Santiago, Chile earlier this month. The summit brought together bloggers, activists, and thinkers working to advance citizen media all around the world. While the discussions that took place were informative, most presentations and panels fell short in recognizing the role mobile phones have played and exploring the potential mobile phones can play in citizen media. I'd like to highlight some of the potential for mobiles in citizen media that were not adequately discussed.
The Potential of Mobiles in Citizen Media
Mobile phones have already played a significant role in advancing citizen media around the world. They were 
instrumental
 in helping capture photos and videos on the streets of Tehran during 2009 protests that followed the elections there. A video captured during that time even 
won a prestigious journalism award
. Mobile phone technology has been 
used in Namibia
 to enable more people from around the country to express their views in one of the country's largest newspapers.
In the
U.S.,
day laborers have been 
using

MMS

messages
 to blog about their daily lives. In South Africa, citizen journalists 
use

SMS, MMS,

and other phone-based technologies
to submit content and commentary to a local newspaper. In India, mobiles are being used to enable
both reporting and news dissemination
 in local languages. 
Many more examples
 exist.
These examples only scratch the surface of what is possible with mobile phones in independent and citizen media. The first panel at the summit, for example, featured online participation efforts around Chile. The government there is working to bring taxes and procurement data online. This was also a project that enabled citizen journalism in 12 local newspapers, as well extensive social media usage by Chileans. Non-profit organizations are also actively participating and responding to online conversations.
The projects were impressive, but panel and audience members rightly raised the issue of a "digital divide" in Chile. There were only 32 internet users per 100 Chileans in 2008. However, there were 88 mobile subscriptions per 100 Chileans in the same year.  It was noted in the panel that access isn't the only barrier to participation. But missing was the discussion of opportunities to use a widely-used technology that could increase participation.
A very interesting project, Biblio Redes, provides a blogging platform for local communities in Chile around a community's local library. The presenter for this project highlighted the difficulties of working with older participants who may have an oral rather than written tradition. Projects based on voice-based technologies present interesting potential to address this population, as has already been done elsewhere (see, for example, this project with indigenous tribes in India).
At the Summit, there were also many conversations about fostering online participation in other languages. Voice-based technologies on the mobile phone may play a role in helping there as well, especially with languages with weak association to written representation, or languages with tricky character sets. Mobile voice-based technologies also provide opportunities for information services and participation for non-literate audiences.
Bloggers and reporters also need to think more about using their mobile phones. In conversations I had with bloggers, I realized that most don't see their mobile phones as potentially helpful devices in normal reporting work. One blogger who had used his mobile phone to stream live video and take pictures of protests was the exception rather than the rule.

Our discussions managed to identify at least three distinctive advantages mobile phones have over traditional multimedia capturing devices:

They are always in our pockets and therefore always accessible.

When there is a data connection, they allow instant uploading and live coverage.

Because they are light and seem more innocuous than large cameras and microphones in situations like protests, they allow reporters to capture multimedia in more situations.

So, Now What?
There were three unconference-style sessions at the summit, and each session had at least some discussion on the use of mobile phones in citizen media. In most of these conversations, I was glad to realize that the mobile phone's potential for use in citizen media was in the back of many minds. Given the potential, however, I kept wishing that this role was front and center.
As a way to push these ideas further, I pose the following questions:
How can you use mobile phones more in your daily reporting work? How can it let you become more creative, spontaneous, immediate in how you cover events and news?

Can we turn increased access that mobile phones provide into increased participation? What is required beyond access to facilitate participation using mobile phones? Can we include ways to participate via SMS or voice in every new participatory project that we envision?
Can we use voice-based technologies to interact better with communities that have richer oral than written traditions? Can we enable more participation in native languages by using voice-based technologies?
Add a comment if you have ideas, or of you are exploring some of these ideas in your work. If you would like to find out about the tools that you will need to do this work, find case studies of other organizations doing similar work, or a myriad of other resources having to do with mobile phones, check out the MobileActive.org mDirectory.

If you want to read about case studies, tools, and resources specifically to do with media production and dissemination, have a look at this page. 
This post was cross-posted on MobileActive.org.
Could not load more posts
Maybe Soup is currently being updated? I'll try again automatically in a few seconds...
You've reached the end.