Newer posts are loading.

You are at the newest post.
Click here
to check if anything new just came in.
December
17
2010
Journalism students must be taught about advertising, building relationships and branding – a football writer turned advertising entrepreneur told delegates at news:rewired today.
Rick Waghorn, founder of locally-focused advertising network Addiply, said that if we want to build a pyramid of news we have to start at the bottom level based on a local advertising market and messages.
Waghorn told the audience that he had a lightbulb moment when he read an article by Clay Shirky and Craig Newmark claiming that the only saviour for newspapers was a time machine.
The first person he met on his road to Damascus was an ex-ad man. They teamed up to create Addiply, which has helped hundreds of hyperlocal sites earn more from advertising than they would through Google Adsense. The idea has also being adopted by big media, including the Guardian which has applied the system to its its local sites. Addiply is also translating to the U.S market.
But if journalist students followed Waghorn's advice, they would find themselves having a vastly different career to the kind envisaged in the YouTube clip below, which was shown by panelist Molly Flatt of 1,000heads.
It was striking how almost all the panelists in the branding and entrepreneurialism session had strong ideas that were formed at transitional moments of their life.
The advice from Rory Brown, founder of Briefing Media, is that business-to-business publishing is the place to be. Rory Brown's own changing consumption of media inspired him to launch the company, which produces the online title The Media Briefing.
He told delegates that he was starting to consume media from lots of different places around the world and no longer went through the simple ritual of reading the Guardian on a Monday or Marketing magazine weekly.
Brown said that his reading habits had fragmented massively and it occurred to him that it would be useful to put all that content in one place and save people the time of building up a network.
Alex Wood's Not on the Wires was inspired by a desire to get closer to the story through the use of mobile technology. Formed with two other young journalists, they pioneered their approach to reporting from the field at the G20 protests in London.
They have formed a network of related organisations with like-minded companies, using Not on the Wires as a shop window for their work.
"We have done a lot of unpaid work, we have done a lot of late nights," he said. "We do it because we are passionate about it."
Wood admitted that the idea of entrepreneurial journalism would get laughed out of the door at the business schools he attended in Wales and Japan.
Alex Wood at news:rewired:
December
16
2010
The final session of news:rewired  - which was focused on the place of game play in journalism – was the one that, more than any other, got "beyond the story".
In an earlier session, Alex Wood, Molly Flatt and others had talked about storytelling being a key skill for journalists. But for interactive producer Philip Trippenbach, storytelling is only one tool in a journalist's arsenal. He said that non-narrative forms can often be a more effective way of disseminating news in some cases.
For example, climate change. Climate change is not a story, Trippenbach said. Neither is the financial crisis or coalition politics. These "systems" suit non-narrative forms. But, he added, when reporting the effects of these systems on people and communities, storytelling might be more appropriate than non-narrative means.
In a nutshell – stories must be microcosms, localised and personalised, but the best way to understand how wider systems work is by playing with them, Trippenbach said.
A practical example of this in the session was Scoop! a role playing game about newsgathering in which teams of newshounds chased fictional politicians during a mock general election. Alex Fleetwood, of social gaming maker Hide&Seek, said that Scoop helps people understand "the games" of media and politics by allowing them to take on role of the journalist or politician.
"As a journalist, the importance of stories and narrative has always been drummed into me. It was interesting to see a different approach to explaining data and systems," he said.
See a liveblog of the entire session from Wannabe Hacks at this link.
You can find video footage from the day on this site and on BBC College of Journalism YouTube channel. Check back to this post for footage of this session.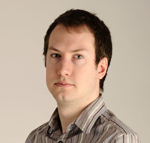 Community editors must not be sidelined in the newsroom, Ed Walker, online communities editor at Media Wales, told news:rewired delegates today.
Responding to @datamineruk, who described how digital staff at her workplace are based in a different part of the newsroom to other journalists, Walker said he sits next to an experienced senior reporter and can tap into his knowledge.
Walker founded Blog Preston, where he found that tapping into readers' local knowledge helped to generate traffic to the site because it produced content that people want to discuss. A regular topic was local character "Toxic Terry", a man who drinks petrol on the high street in Preston. Rumours of his demise sparked a spike in traffic, which only ebbed when someone saw him alive on the high street.
Walker had a number of suggestions about what makes a successful online community. One is focusing on popular topics like local history and getting input from experts. He also suggested making journalism a two-way street using interactive features like pothole maps.
Neil Perkin, founder of Only Dead Fish, said he has learned more about communities from being a blogger for four or five years than anything else. He unveiled a list of things to avoid when building communities:
Not having a clear objective – if you have clarity on your purpose, the people in that community have a reason to be there.
Avoid fixation on numbers – social media a source of referrals but don't chase numbers at the expense of saturation.
Don't broadcast at your community – to quote Clay Shirky, it's about creating an environment for supporting people.
Forget the idea that it's all about the technology – it's about the people. Understand who are the authoritative people in your market. People like something to do and respond to openness.
Avoid not being a part of it yourself.
Anthony Thornton, group digital editor at IPC Inspire Men and Music, started his presentation with the depressing figure that 99% of attempts to start a community end in failure. Anthony, who was instrumental in the launch of the online version of the NME, said that communities exist already, it's just a matter of finding one.
He also discussed how building a community around a book that he was working on helped it to gain a place in the Sunday Times' Top 10 Bestsellers list. The book, which focused on the indie band the Libertines, was embraced by fans after Anthony connected with them on Myspace ahead of publication. Sharing cover ideas and other content helped fans form a relationship with the book giving it an edge over a rival title, which was published at the same time.
Could not load more posts
Maybe Soup is currently being updated? I'll try again automatically in a few seconds...
You've reached the end.